Keola® Christian Fitness, A Mind-Body+ and Christian Yoga Alternative
Shop Wellness Tools and Keola® Gear
This Studio Shop offers physical products to help with your wellness journey and show your love and support of Keola®. Please visit Online Courses, if you are looking for Keola® classes and movement resources.
Branded Clothing and Gear
Click on any image to see the design in different colors, sizes, and style options for men, women, children, and babies.
Exercise Tools & Healthy Living
​These products are some of my favorites for health and beauty. I get a commission on most (including the Amazon links as an Amazon Associate), but I would (for many have) share them without it. Your purchase through these links is genuinely appreciated and doesn't cost you anything extra. It is a simple way to show your support and help keep Keola® growing and going!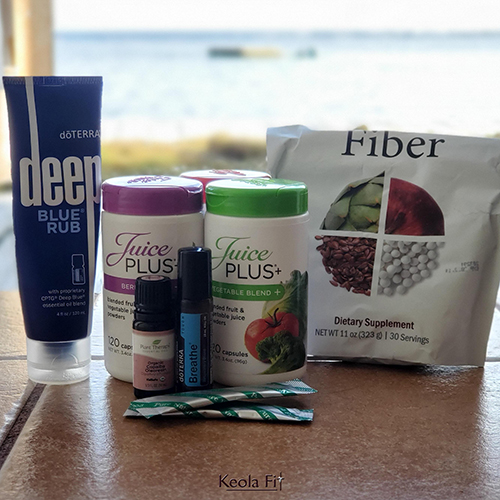 Immune Boosting, Digestive Support, Inflammation & Muscle Relief | Travel Takes
Helpful and Easy To Pack
Excessive sitting, restaurant fare, potential time zone shifts... God created you adaptable. Vacations are good for your soul. He is Protector and Healer. These are just a few things that are easy to pack and support your body naturally as you enjoy time away with loved ones. Yay, God!
The Deep Blue Rub, Lacrosse ball (not pictured), and Copaiba oil are my favorites for keeping my muscles loose. Copaiba oil acts like CBD oil (better physiological response, actually), but unlike CBD oil has NO psychoactive trigger or possibilities. Copaiba resin (what the oil is derived from) has been used for centuries. I like to put a few drops of organic copaiba oil onto the Deep Blue Rub or place 2-3 drops each of Deep Blue oil and copaiba oil into my hand with some grapeseed oil to massage onto sore muscles. There was a study in 2018 that showed significant results from using this combo in arthritis patients and I have found it to be helpful in relieving pain in my tightest areas.
DoTerra Fiber is a natural source of fiber and prebiotics. It contains soluble fiber, which I've found to be better on my gut than products with higher levels of insoluble. I love that it doesn't have any weird dyes or other unpronounceable products. The flavor is also great! Additional fiber like this can be an excellent help to your gut health. This non-chemical option can be taken daily to help support intestinal balance and normalcy to your bathroom schedule.
Juice Plus capsules are my go-to when I will be consistently eating out. This product is well researched as equivalent to eating 5 servings of fruits and vegetables. I use the gummies at home for more of a healthy dessert option since I already eat well, but I like the sugar-free capsules when my diet gets temporarily richer.
My probiotic choice is FiveLac. It has also been a great support to my gut health and doesn't require refrigeration.
Finally, this DoTerra Breathe roll on was a last minute grab on my most recent trip. I haven't used chemical bug spray for years. I didn't have any natural, oils-based at home and was packing to leave the next morning. I had just gotten this freebie with my recent order, checked the ingredients and saw some scents that bugs don't like, so I took it. I'm so glad I did! A little dab at my neck, elbow crease, wrists, knees, and ankles each night and I had no bites. I plan to take it every time. It's simple to pack in a purse for any local night activity, too. You can also try Terra Shield which is made for keeping bugs away.
P.S. I use all these things at home, just less consistently.
Keep Working Out As You Travel
Going off the grid? Here are some downloadable products to keep you moving and focused on the Lord. I've had many exciting encounters with strangers as I've stepped out to pray or been a part of other God appointments. Keep Him first everywhere you go! These resources help with that, your mental health, and keep your body moving. Access both resources and more downloadable workouts as a Keola® Fit & Fiery Club member. Click that product to start your free trial today!